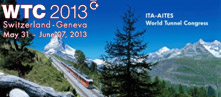 May 31 - June 7, 2013, Word Tunnel Congress 2013
Underground - the Way to the Future
Registration is now open.
Please go to http://wtc2013.ch/home.html for more details.

Engineering Careers in Tunnelling and Underground Space
YouTube video by the International Tunnelling Association

Toronto Transit Commission - Building a Subway Tunnel
YouTube video on TBM Construction

International Tunnelling Association
Please click here to view the latest ITA newsletter.
2012 Eisenstein Memorial Scholarship
TAC is pleased to advise that Ms. Anna Crockford is the recipient of the 2012 Eisenstein Memorial Scholarship. Anna is a post-graduate student, pursuing a Masters of Applied Science degree at Queen's University, Department of Geological Sciences and Engineering. Her research focus is performance of shallow tunnels and caverns in layered sedimentary rocks. Anna's research advisor is Dr. Mark Diederichs.
2013 TAC Student Awards and Eisenstein Memorial Scholarship
Applications are currently being accepted for these awards and are due by April 30, 2013 – please click here for more information and to access the forms.
WTC 2010 Conference Proceedings Now Available on Flash Drives, Electronic proceedings of the 2010 World Tunnelling Conference held in Vancouver, Canada are now available for sale.
Please click here for more details.